islandtapes stkildatapes mohicans rob roy nosferatu cddvd press bios origin shows contact
Island Tapes Press
Akustik Gitarre (Germany) May 2008
Michael Lohr
The new DVD-CD is a daring experiment, which results in a heart-rendingly successful contrast. Flickering and shakey old black-and-white images show people from two generations ago in bleak windswept landscapes, engaged in hard manual work like for instance peat cutting, with which they subsidise their meagre income.

Their heirs have produced compositions and arrangements to these moving pictures which celebrate the toughness and tenderness of these people in a very original way.

Recorded in a high-tech studio, this musical melange of guitars, ukeleles, whistles, vocals, percussion right up to and including samples and loops creates the triumphal impression that out of back-breaking work, the will to survive and humour something has survived – the spirit of these people live on in this music.

Bleak, melancholic, clear but also mystical Celtic melodies provide a loving homage to the people and the tradition.

Living Tradition Magazine May 2008

Debbie Koritsas

'The Island Tapes' was first premiered at Celtic Connections Festival in 2006. It is a beautifully moving live show lasting some 90 minutes, and features silent archive film and a contemporary music score written mainly by David Allison, but also includes compositions by Ian Melrose and others. Now it has been released on CD and DVD, making it accessible to those who have not been lucky enough to see the live performance. Several charming, evocative and historically important black and white films were sourced from the Scottish Screen Archive, and the footage here depicts life on St. Kilda, Skye, Orkney, Shetland and Harris in the 1920s and 30s. There's a film called 'New Way to a New World' too, which captures Scottish immigrants embarking upon a new life in North America. These films are rich in their humanity, there are delicious moments of humour and joie de vivre, and they quite honestly move you quite profoundly. People at work or at play, or even embarking on new life journeys. Perhaps the most moving film depicts life on long-abandoned St. Kilda, and includes interview footage of Norman Gillies, who left the island at the age of 5, and is now in his 90s. The entire DVD is a visual delight.

Whilst the film footage is priceless in its own right, showing as it does a way of life long gone, its marriage with the music creates something special and unique. Based mainly around finely crafted guitar playing (acoustic, classical) with additional instrumentation including ukulele, dobro, low whistle and percussion, the film score is intensely beautiful. Alyth McCormack's voice is exquisite and exactly right for this commission. Emotional at one moment, as when singing 'Eilean Scalpaigh na Hearradh', or filled with light and beauty, as when singing on the sublime 'Crofting in Skye.' David Allison makes effective use of loops in several parts of this recording, layering them against his own crafted guitar playing, Alyth's voice, the fingerstyle acoustic guitar of Ian Melrose, and Allan Neave's classical guitar.

The Island Tapes represents a quite extraordinary emotional journey in both image and sound, and these special and valuable recordings will grace the music collections of all who are as interested in Scotland's recent history as they are in her music. This is a very important recording.

Stornoway Gazette January 2008
Eilidh Whiteford
Musicians look at old film footage from the Scottish Screen Archives. Musicians make music inspired by films. Sounds simple enough. But what has been produced – 'The Island Tapes' – is nothing short of a magical musical tour into the past; where emotions are stirred, interests peaked and people and places are stunningly brought back to life.

'The Island Tapes' first performed publicly at the Celtic Connections music festival in 2006, before returning again the following year, after touring Germany, Estonia and America. And such is its popularity, 'The Tapes' are back at Celtic Connections for a third year running – but this time to launch the much anticipated CD/DVD.

The combined talents of acclaimed composer and musician David Allison, musicians Allan Neave and Ian Melrose, and Lewis' very own Gaelic songstress Alyth McCormack, deliver a wonderfully produced and polished CD of tunes and songs inspired or brought to mind by viewing the six archive films selected to appear in 'The Island Tapes' performance.

The calibre of the artists involved is instantly audible and the various influences, genres and styles which make up eight tracks lead to a hugely enjoyable listening experience. Indeed, the CD stands on its own as a thoroughly accomplished recording of superb quality.

But these tunes and tracks were written with images in mind and, when brought together in 'The Island Tapes' DVD, such images and music combine to leave viewers enchanted. 'The Island Tapes' experience kicks off with the film 'St Kilda – Britain's Loneliest Isle', directed by Paul Robello and Bobbie Mann and recorded 1923-1928. Following the voyage of the SS Hebrides as she loads up in Glasgow with food supplies for the remote island before travelling northwards; passing through Oban, Tobermoray, Skye, Lochboisdale and Castlebay, David Allison's composition 'The St Kilda Waltz' backdrops the rural idyllic images which flicker on screen.

Finally the filmmakers' destination is reached and as St Kilda comes into view, and the track 'Norman Remembers' is introduced through the spoken words of Norman Gilles, who was evacuated from the island in 1930, aged five. Shivers of excitement and anticipation run up and down viewer's spines as a low rumbling is heard underneath the gentle swell of the sea and a beautifully crafted melody plays above, before Alyth's crystal clear vocals cut through all to sing 'Dail o ro mar dh'fhag sinn' – written by Bernera man Duncan Macdonald, who was also school master in Sandwick, in 1938.

St Kilda was certainly the way to open 'The Island Tapes' and sets a precedent for all which follows.

Continuing the reminiscent look back at past times, 'Holidaying in Harris', a 1938 film by Nat and Nettie McGavin, is accompanied wonderfully by music 'Eilean Scalpaigh na Hearadh' (credited to Gilleasbuig Grannd lyrics Iain Moireasdan) and Alasdair Macmhaighstir Alasdair (1745)'s 'Oran eilie do'n Phrionnsa' amongst others.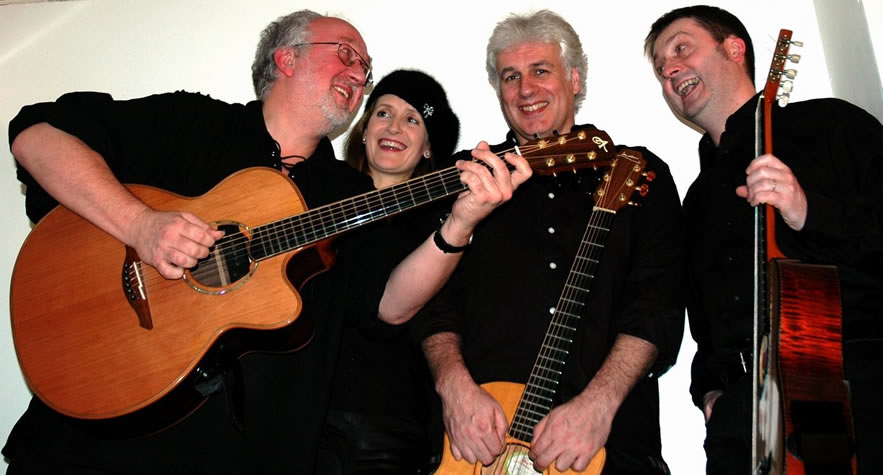 And 'Crofting in Skye', shot by an unknown filmmaker the following year, is viewed to Ian Melrose's beautiful compositions – directly inspired by the footage – including 'Skye pastoral theme', 'Into the Boat' and 'To the Market' with lyrics to 'De n t-anim a th'air' by Alyth.

Moving from west to north and 'The Island Tapes' transfers itself to the isles of Orkney and Shetland.

The 1939 'Handba' at Kirkwall' film, directed by W. Kirkness, is yet another example of the fantastic musical interpretation which those involved have taken from viewing the moving images. Here the film firstly take a slow tour around the town – to the music of Sir Peter Maxwell Davies' deliberate and poignant 'Farewell to Stromness' – before illustrating a game of 'Handba' – a thrown back from Norse invaders to the island and which involved what appears to be the town's entire population – to the more upbeat sounds of Andrew Robinson's 'Moments in awe'.

Allan Neave describes it best in the accompanying sleeve notes of the CD/DVD: "On my first viewing of the film all seemed sedate and calm, but soon things turned to the 'somewhat animated' subject matter of the title and the fun began! The idea behind the music was to mirror this with an opening melody, reflecting the slow moving images and the beautiful, peaceful landscape. The clearly defined second section of the film shows throngs of people jostling for the 'handba' this being mirrored by the rapid notes in the guitar line and the driving rhythm of the percussion."

The short piece 'Da Makkin o' a Keshie' stars old Shetlander 'Gideon' in Jenny Brown's 1932 film which details the work in creating a straw basket used for carrying home the peats; and is brilliantly accompanied by David Allison's own composition – a jolly, jaunty, ragtime track made even more fun by the addition of Alyth on kazoo.

"When we play this piece live Gideon always gets his keshie made on time, and we have to finish the tune at exactly the right moment. I could swear sometimes he deliberately speeds up just to try and catch us out…" shares David in the notes.

But just as 'St Kilda' heralded the beginning of something spectacular, 1936 film 'A New Way To A New World' shows the hints of a way of life coming to an end as the viewer is taken on a journey so many island ancestors undertook – a journey across the Atlantic to start a new life in America. St Kildean Norman Gilles told at the start of leaving his island, and here the voices of Annie Ross, Agnes Shilling, Patrick Peak and Mary Dunn – Scots who passed through Ellis Island as immigrants to the United States – again add deep emotion and poignancy to both the film and music.

From the sadness of waving a final farewell to Scotland at Greenock, the fun and frolics which occurred aboard the immigrant ships, to the excited fear on arriving in the new world, images are as always superbly set off by the accompanying music. As New York appears on screen, yet another shiver passes through the viewer, a rush of emotion felt as the high rise metropolis emerges through the flickering dated images – so different from the rustic simplicity seen throughout 'The Island Tapes'. These emotions were no doubt felt by those who undertook the adventure many years ago, and are cleverly captured through the rush of sound and fast paced breathlessness of Alyth's 'Tha sinn a dol dh'Ameirica'.

'The Island Tapes' is certainly a pure gem of a release and on well worth investing in. As well as a CD and DVD of the six films selected, extras include, amongst others, a video of meeting Norman Gilles, a blog of the Tapes' German Tour and thoughts of the four musicians involved as they prepare to perform on Ellis Island, New York – where those featured in the final film first landed in the new world.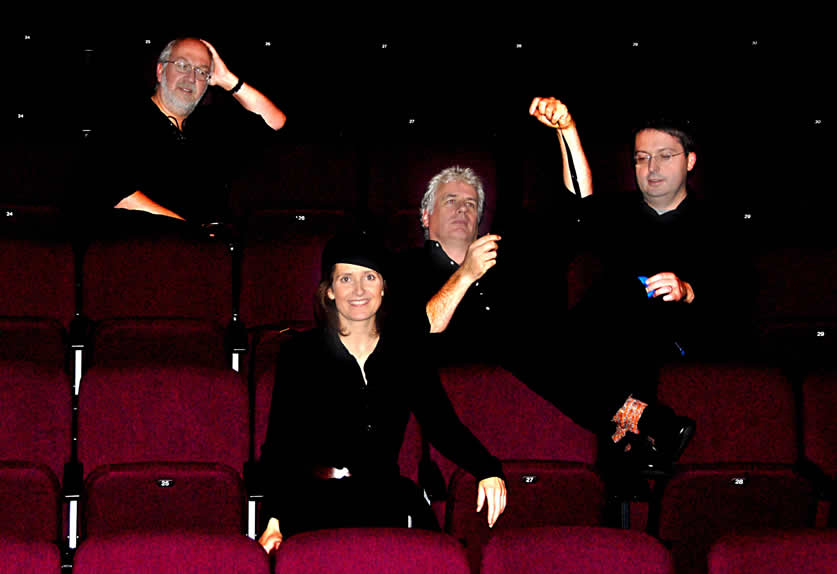 Folker June 2008 Markus Dehm
Our last report on "the Island Tapes" finished with the hope that the project would soon be available on DVD, so that it could be enjoyed at home. That wish has become reality, and additionally, there is even an audio CD for those who want to also enjoy the music on its own occasionally. Three superlative guitarists - David Allison, Allan Neave and Ian Melrose - are joined by the virtuoso Gaelic singer Alyth McCormack, and together they have written and produced music to accompany six black and white silent films from the Scottish Screen Archive. The music wonderfully displays their musicality, sensitivity for and understanding of the films and their content.

Five of the films depict life on Scottish islands in the 1920s and 30s, and one film accompanies Scots emigrating to the USA on a ship headed to New York. A wonderful idea: a historical document with fantastically-played music, which really unfolds it's full impact when enjoyed together with the films i.e. on the DVD. Furthermore there is a lot of great bonus material, including a 40-minute blog about their German tour in 2006.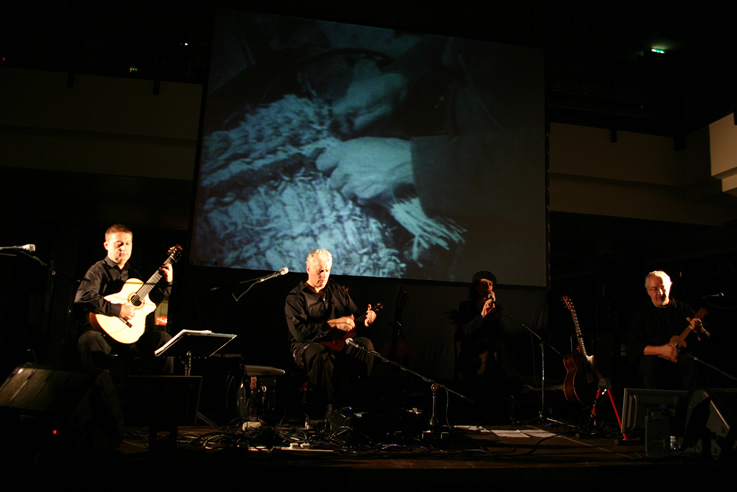 Scotland on Sunday June 2007
Airs from the edge of the world come home
Chitra Ramaswamy

A YEAR ago The Island Tapes, a powerful and evocative project combining vintage Scottish films from the 1920s and 1930s with live music, was first performed in Glasgow to great acclaim.


Since then, the piece, featuring three musicians and the acclaimed Gaelic singer Alyth McCormack, has travelled the world, stopping off in Germany, Estonia and the United States for Tartan Week. Yet not once has it been to the Scottish islands on which the films are based. The Island Tapes has been shown on Ellis Island, New York, but it hasn't visited St Kilda, Skye, Orkney, Shetland or Harris. That's about to change.

The show will travel to Lewis and Skye, and after that guitarist David Allison's great hope is to take it to Shetland and Orkney: "It's quite surprising that it's taken this long to get there."

Allison, who initiated the project after writing a score for a silent film about the 1930 St Kilda evacuation, which was used on a reissue of Michael Powell's The Edge Of The World, spent days sifting through a mountain of tapes at the Scottish Screen Archive, looking for films about the islands. He settled on the ones about people, about the skill of crafting a basket - a 'keshie' - for carrying peat on Shetland, a raucous game of handba' on Orkney, and the hardship on St Kilda that eventually, in August 1930, led the 36 remaining islanders to request evacuation to the mainland.

Allison even managed to track down one of them: Norman Gillis, a man now in his late 80s who was five when he left St Kilda, speaks about his memories as part of the score. The music is from Allison, Allan Neave, one of Britain's finest classical guitarists, and world-renowned fingerpicker Ian Melrose, with singing and spoken word from McCormack.

"I remember as a boy of five my mother dying and realising we were in a hopeless position if anybody took really ill," recalls Gillis in the gruff, emotional recording. "For the young people, leaving was a great opportunity, but to the older inhabitants it was like you had cut off their right hand, making them leave St Kilda."

Recently, when The Island Tapes travelled to New York for Tartan Week, the quartet included a sixth film about the emigration of Scots to America in 1936 on the Cameronia ship that set sail from Glasgow's Broomielaw. "I looked at passenger records to see if there were Scots with our surnames on that ship," explains Allison. "I found all four: a Melrose who worked in the engine room, a Jane McCormack who was a nurse, a domestic called Mary Neave and the ship's purser was a James Allison. I ended up including their stories in the New York shows."

"We're finally taking the piece home," says Allison. "I'm most interested in seeing the islanders' reaction to these films that are about their homes, and have been seen all over the world."